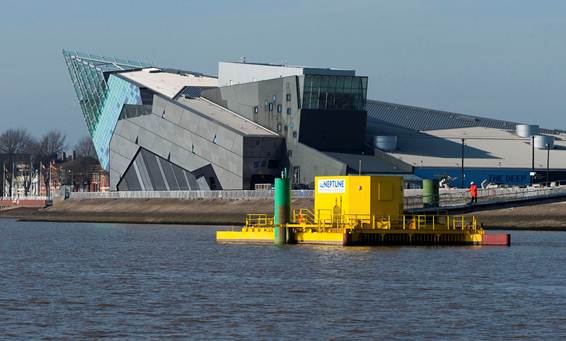 The Deep, a popular visitor attraction in Hull, is to be powered by tidal energy generated in the Humber estuary. It marks a big development in renewable technology.
A floating tidal generating platform will begin providing energy to The Deep, the world's only submarium (a portmanteau of submarine and aquarium in reference to its stunning underwater lift), from April.
The Neptune Proteus project is the result of five years research by East Yorkshire-based developers, Neptune Renewable Energy.
Its chairman, Nigel Petrie, said, "The development of the Neptune Proteus has paved the way for the design of our production model, arrays of which will provide a dedicated supply of clean power to major industries located on the Humber estuary and other suitable British locations.
"Supplying power to our first customer, The Deep, presents us with a great opportunity to raise the profile of our technology and of the potential for tidal stream power generation to make a significant contribution to meeting both commercial and domestic electricity demands."
The Neptune Proteus demonstrator is 20 metres long, and possesses a turbine designed to maximise power generation. Add to this its position in the Humber – an ideal location for tidal energy because of its depth and flow – and the project sounds like a guaranteed success for the region.
Pulling in more than 400,000 visitors a year, The Deep, with its innovative, ship-inspired design, is one of Hull's most popular attractions. The fact that is set harness tidal power is very fitting indeed.
The submarium's chief executive, Colin Brown, said that not only was the development entirely welcomed by The Deep, it was wholly necessary to fight climate change.
"There is increasing collaboration in the region to ensure that the Humber achieves prosperity through renewable energy investment", he said.
"It's very satisfying that The Deep can play its part through involvement in this innovative and high profile project."
Brown also acknowledged another major issue with rising levels of carbon dioxide in the atmosphere: ocean acidification, which has reached its fastest rate in 300 million years.
"One of the more dangerous effects of burning fossil fuels is the gradual acidification of the oceans.
"As an environmental charity I think it's really fitting that The Deep will soon be using the sea to protect the sea!
"The prospect of being able to use energy from the waves takes us to a whole new level and is entirely fitting for us as an ocean-themed visitor attraction."
It's widely accepted that switching to renewable energy is essential to face the impending threat posed by climate change. Announcements from public-facing projects, such as The Deep, are always welcomed with open arms at Blue & Green Tomorrow.
You too can go the way of The Deep by powering your home with green energy. Visit Good Energy, the UK's only 100% renewable energy supplier, to find out more.
Related links:
UK marine energy industry urged to take commercial strides forward
New wave of funding for marine energy sector