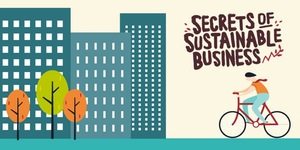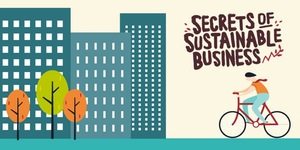 Imagine a world where the people who did the most good made the most money. Blue & Green event discount.
Businesses are increasingly recognising the importance of operating in an ethical, socially responsible and sustainable way.
The Secrets of Sustainable Business conference – the first of its kind to be held in Lincolnshire – will bring together ambitious businesses of all sizes and social entrepreneurs to uncover the secrets of making money by doing good. This is not an event about solar panels and energy efficient light bulbs (although we do think this makes good business sense). The event has been put together by Social Change UK in partnership with The University of Lincoln.
Speakers include:
Jo Fairley is co-founder of Green & Black's. She and her entrepreneur husband set out to market the world's first organic chocolate, deciding on 'green' to represent their environmental ethos and 'black' to reflect particularly high-quality cocoa beans.
Kelly Evans is the Managing Director for Social Change UK – a social research and campaign company based in Lincoln and working across the UK and in Europe with businesses and public sector clients on programmes that deliver positive change and make a difference to people and communities.
Josh Littlejohn is one of Scotland's most influential social entrepreneurs. The founder of both Social Bite and the Scottish Business Awards he has put the idea of business as a force for good firmly on the agenda of the Scottish business community.
Steve Vasconcellos-Sharpe runs Salt magazine and is a change agent, believer in a better world, and conscious entrepreneur. Having a multicultural background, Stephen went on to spend half his life living and working all over the world, meeting world leaders and key decision-makers, and experiencing the challenges and opportunities of globalisation first hand.
And Blue & Green's very own Simon Leadbetter.
The event will be chaired by Glenn Le Santo who has been a journalist and broadcaster since before the dawn of the internet and witnessed the subsequent revolution in publishing first hand.
Readers of Blue & Green can get a £60 ticket incl. VAT (full price £90) by entering the promotional code BLUE50 when booking here before 30th September.
The event takes place at the eco-venue Epic Centre, Lincolnshire Showground, LN2 2NA on October 19 2015 from 9:30-16:45. It is hosted by Social Change UK in partnership with The University of Lincoln, and sponsored by Lincolnshire Business, Root Studio and Visual Print and Design
The event coincides with Good Money Week.