The Big Short's "dramatic retelling of the 2007-8 financial crisis reveals a riveting world of chaos, corruption and misfits" says the Guardian, but the results from the actual event seems way beyond our control. Or is it? Join Bristol Pound and Triodos Bank, for an afternoon of a comical and critical insight into the flaws of the global financial system and then discuss how we can practically respond and make things better.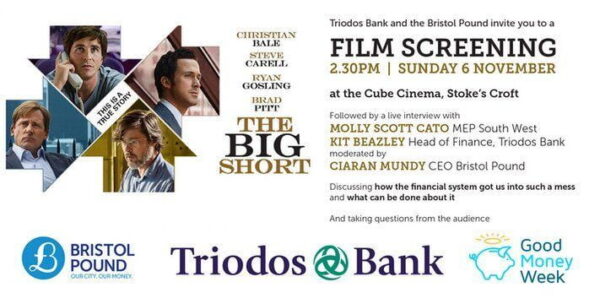 The event will be a chance to see the critically acclaimed film and then take part in a live interview with renowned economic expert and MEP Molly Scott Cato and Triodos Bank's Head of Finance Kit Beazley. Moderated by Bristol Pound CEO Ciaran Mundy, the focus will be on what we can do in our everyday lives to bring about the positive change we all want and empower our communities to create sustainable, resilient, and real economies.
Money, chaos & corruption: how the financial system got us into this mess and what can be done about it
Both Triodos Bank and the Bristol Pound are at the hub of innovation in the financial services sector in Bristol. Both organisations offer sustainable alternatives committed to positive change. Triodos Bank uses the power of finance to support projects that benefit people and the planet. Banking can be a force for good. By transparently connecting savers and investors with organisations creating positive impact, Triodos Bank uses finance to build a more sustainable society. The Bristol Pound is an alternative currency which 'sticks' to Bristol, strengthening the local economy and stopping money from leaking out of the city and getting into tax havens. Each Bristol Pound spent is an expression of values and a commitment to re-spend in the real, local economy again and again. This event is part of Good Money Week, a national campaign to educate and inspire people to use their money in ways that benefit people and the planet. Research from Triodos shows that more people want positive savings and investment opportunities but the industry is lagging behind. Support the movement for good money by following #GMW16.
About the film
The Big Short chronicles the story of hedge fund manager, Michael Burry (Christian Bale) who places a huge bet that the housing market will collapse, just before the financial crash of 2008 and has been commended for the way in which it explains concepts such as 'subprime mortgages' and 'collateralised debt obligations'. Starring Christian Bale, Steve Carell, Ryan Gosling, Brad Pitt, Margot Robbie, Anthony Bourdain, Selena Gomez and Richard Thaler, it "approaches a serious, complicated subject with an impressive attention to detail — and manages to deliver a well-acted, scathingly funny indictment of its real-life villains in the bargain." Rotten Tomatoes
In order to avoid disappointment on the night, they're offering the chance to submit your questions in advance: submit your questions to events@triodos.co.uk.