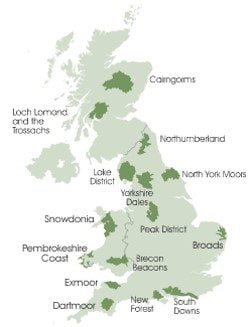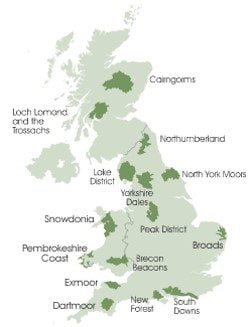 Oxford Uni Publishes Framework For National Parks, World Heritage Sites, & Protected Areas To Secure New Investment
A two-year study to develop a new 'asset' framework for Protected Areas (PAs) has been completed by the University of Oxford's Smith School of Enterprise and the Environment and is published today. The new framework is designed to help protected areas attract new investment, generate more value from new and existing investments, and better manage risks that could 'strand' PA assets, such as biodiversity, habitats, visitor facilities, park staff and volunteers, and local livelihoods.
In an era of increasing resource competition, there is a risk that PAs could be seen as being 'in the way' of human development. Some countries have already backtracked on international PA commitments, and protected area downgrading, downsizing, and degazettement (PADDD) has recently emerged as a topic of concern. Budgets for PA management are also being cut. As a result, PAs are increasingly vulnerable. The future of PAs depends on their contribution to society being properly seen.
Ben Caldecott, a Programme Director at the University of Oxford's Smith School said, "For protected areas to succeed they need to attract new public, philanthropic, and private investment. Existing budgets are insufficient, especially in the context of the new and emerging risks that face – from climate change through to infrastructure development. We have created a new framework to help protected area managers better allocate existing funding, as well as attract new funding."
Protected areas form an important part of global conservation efforts and generate a host of important 'values' beyond species and habitat conservation, including economic (e.g. tourism, fisheries, ecosystem services), social (e.g. communities), cultural (e.g. identity), recreational (e.g. hiking, safari), political (e.g. institutions, international reputation), and option (e.g. land development, bio-prospecting) values.
Susanne Schmitt, WWF UK's extractives manager said "WWF-UK welcome the publication of this timely new framework. It highlights the suite of different values – from biological, cultural, human to institutional values – which Protected Areas, such as natural World Heritage Sites, represent.  Understanding the full suite of values is the first step towards mitigating risks faced by protected areas and can help in the identification of urgently needed investment for these special places. "
Caldecott added, "Societies have invested in protecting natural assets for centuries. Our new 'asset' framework will enable the assessment and mapping of different types of protected area assets, the forms of value they create, who captures value, and the risks that may 'strand' these assets. The framework also represents a heuristic tool that can help underpin the case for new investment in PAs."
The project recommends that in order to assure the future of PAs in the future, three things need to happen simultaneously: i) we need to demonstrate the value generated by PAs in ways that are meaningful for citizens, politicians, and markets in a rapidly changing world; ii) we need to understand better the forms of value generated by PAs to enable enhanced risk management; and iii) we need to attract new investment into PAs from old and new funding sources. The study published today is the first completed as part of a new University of Oxford Project for Protected Area Resilience (PPAR). Each of these three areas is a focus of Oxford's PPAR.