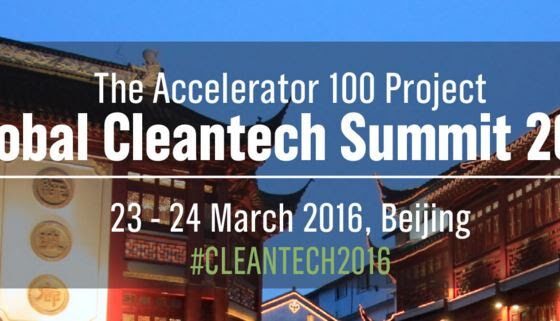 Global Cleantech Summit opens with launch of 'Accelerator 100' project to support China's Five-Year Plan
The Global Cleantech Summit in Beijing, China, hosted by The Climate Group, opened today with the launch of the 'Accelerator 100′ project. Over 300 financial institutions, policymakers and leading clean technology firms from China, Europe, North America and beyond have gathered for the two day Summit aimed at driving the transformation in China's energy, industrial and economic development.
The 'Accelerator 100' project, led by The Climate Group and partners, will connect 100 of the world's leading clean technology and energy companies with investors through the Summit. By bringing these key businesses, investors and policymakers together, the project aims to support the effective commercialization and upscale of clean technologies. China is one of the largest growth markets for cleantech in the world, and is already expected to reach US$2.2 trillion by 2020.
Mark Kenber, CEO of The Climate Group said: "Following on from the historic Paris Agreement that clearly set out our low carbon future, the Global Cleantech Summit has a vision of continuing this innovation and creating partnerships needed to allow the global cleantech market to continue to flourish.
"From financing to facilitating policy frameworks, innovators to technology experts; cleantech companies around the world have the capabilities and expertise to truly drive our collective transition to a global low carbon economy. The 'Accelerator 100' project aims to do exactly that by convening these key stakeholders together and catalyse the investment and deployment of clean technologies to help support China – and the world's – energy, industrial and economic landscape."
The Summit also follows the recent release of China's 13th Five-Year Plan for National Economic and Social Development, which placed 'innovation' at the forefront of priorities. The country's plan targets 15% reduction in energy per unit of GDP by 2020 based on 2015 levels, and aims to cut carbon intensity by 18% in the same timeframe. In doing so, clean technologies are a focal point of the policy framework for delivering reduced national reliance on fossil fuels and to better institute energy efficiency in traditional industries.
Speaking on the opening day of the Summit, Wang Yi, Member of the Standing Committee of the National People's Congress and Vice President of the Institute of Science and Development, Chinese Academy of Sciences,explained: "Green development is an important part of the construction of an ecological civilization, suggesting we should make the entire social economic system 'green' to establish a green production and consumption system in which systematic innovation, including technical, institutional, conceptual and innovative business models are pushed forward. This green development and environmental protection in China, the world's second largest economy, has been included in its strategy of achieving global sustainable development goals."
Business has also played a key role in shaping the Summit. Zhongwei Ma, Chairman of MagnaDrive Corporation Limited, Convening Partner of the Summit, said: "From a business perspective, green development simply means to reduce extensive development that results in high investment, pollution, energy consumption and emissions – and to speed up the change to green, low carbon and highly efficient development. We have every reason to believe that a booming market for cleantech and energy-conserving technologies is coming."
During the Summit's high-level plenary sessions, including The 13th FYP – Game changing technologies for a low carbon transition in China, the role of finance and investment was unanimously agreed to be a pivotal factor to further unleash these cleantech market opportunities. Speaking at the event, Li Weiqun, Secretary-General from the China Association of Private Equity, agreed: "The importance attached to the development of clean energies in the 13th Five-Year Plan implies that the cleantech investment market will heat up to be an investment hotspot and green industries will hopefully evolve into a new engine for China's economic growth. The Chinese Government has been engaged in a number of endeavors in channeling the development of green finance while more efforts are needed to reinforce innovation, build up a green financial system and mobilize more social capital to participate in developing green finance."
The Global Cleantech Summit takes place from 23-24 March. For more details, visit the website and follow #Cleantech2016.