According to the US Department of Energy, the cost of residential solar power is at an all-time low – down from 52 cents in 2010 to 16 cents in 2017. Though the industry still has a ways to go before it achieves its 2020 energy cost goals, almost 85 percent of the target has been achieved with three years to spare. So, there is little doubt that the alternative energy sector categories will hit the mark. The green lobby in the country is also at work, endeavoring to slash the more expensive soft costs like overhead and sales tax by half within the next three years. Homeowners living in the cities like Tampa, Seattle, and Cincinnati were previously on the fence about investing in solar panels for home; all these developments are likely to encourage them to take the right call, and usher in a cleaner, greener future. However, there are many other reasons that might inspire homeowners to go solar in 2018:
1. Decreased Carbon Footprint
Global carbon dioxide emissions from fossil fuels were mostly uniform over the last three years. But a two percent increase is expected in 2017, according to the Global Carbon Project (Source: www.carbonbrief.org). More and more people today realize that rather than burning more limited natural resources in 2018, they need to step up and do their parts for the environment. And installing solar panels in homes can be a step in the right direction. Within two decades, residential solar technology can offset nearly 100,000 pounds of CO2, which implies a considerable reduction in energy consumption and the overall carbon footprint.
2. Reduced Utility Bills
Household appliances like washing machines, lighting fixtures, air conditioners, and water heaters consume a lot of electricity, raising households' monthly electricity bills in the process. But switching from fossil fuels to solar panels can reduce these expenses by a huge margin. The technology generates free power throughout its 25+ years lifecycle, and even lowers the utility bills under certain conditions. Individuals with fixed incomes will be pleased to know that solar panels make electricity costs more predictable, thereby helping them stay within the monthly budget.
3. Increased Property Values
Those who are planning to sell their homes in 2018 should be prepared to shell out a lot more in capital gains (Source: medium.com). Having solar panels installed in their homes, however, can offset some of the cost since renewable technology raises the value of the property. Plenty of potential young home buyers seek out modern, efficient, green homes for energy independence, and they are willing to pay more than older individuals (Source: cleantechnica.com). So, when your building comes pre-installed with such features, it shoots to the top of their wishlist.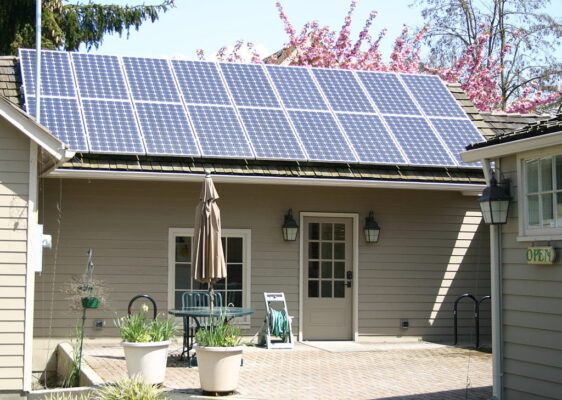 Apart from that, people in hot regions like Florida prefer energy-efficient houses to save money. And nothing says energy-efficient like a home solar system. No wonder the properties featuring solar panels cost 17 percent more and sell 20 percent faster, as per the National Renewable Energy Laboratory.
4. It's Trendy
The renewed focus on alternative energy has brought the millennials (aged 18 to 35 years) out in droves. In the US, millennials comprise the largest living generation – 79.8 million in 2016, and their population will increase until 2036 (Source: www.pewresearch.org). These millennials are all about the green life and advocate innovative, energy-related systems, including residential solar. In fact, an Accenture survey found that 56 percent of millennials want to make the switch to solar within the next five years (Source: cleantechnica.com). Judging from the other reasons listed above, 2018 is a good a time as any.
In Tampa and other sun-kissed cities, more and more home are opting for solar panels. This trend is informing people in other parts of the country about the positive impact of solar power, not just on the environment but their finances as well. And, thanks to the rising number of solar power installations, the nation is inching toward a sustainable, clean economy.