And scientists from the National Snow and Ice Data Center (NSIDC) in the US claim that the area could diminish even further in the next week – the last week of summer in the region.
As winter approaches, the NSIDC figures suggest that some 40,000 square km of ice is being lost every day, and that the ice-covered 4 million square kilometre area left is 45% smaller than in similar conditions in the 1980s and '90s.
But whilst the data clearly shows a decline in Arctic ice, the figures still have doubters. The animated image below – comparing how realists and sceptics view the Arctic sea ice decline – comes courtesy of Skeptical Science.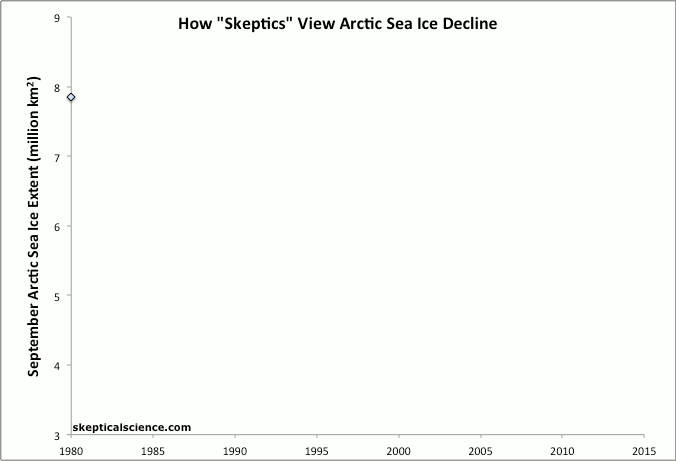 While many individuals and businesses are rightly responding to the decline in the Arctic by investing in technologies and companies that aim to tackle the melt, lower emissions and produce low-carbon clean energy, there are others that view it as another kind of opportunity.
It was announced this week that Shell had begun drilling for oil in the Chukchi Sea – located south of the Arctic Ocean between Alaska and Siberia – for the first time in more than 20 years.
Pete Slaiby, Shell's vice-president for Alaska, commented how he was "very excited" about the development, and that it was a "new chapter for Alaska's oil and gas industry".
But whilst the oil giant's whole operation could easily be looked upon with disparagement given the worrying figures released by the NSIDC, it has been criticised for lacking basic safety standards by environmental campaigners Greenpeace.
"Such recklessness wouldn't look out of place in a stock-car race", Ben Ayliffe, senior Arctic campaigner, said in The Guardian.
"The only option now is for the US government to call a halt to Shell's plans to open up the frozen north because the company is so clearly unable to operate safely in the planet's most extreme environment.
"Whatever Shell is able to do in the narrow window between now and when the sea ice returns, it won't erase the clear evidence we've seen in the past two months that there's no such thing as safe drilling in the Arctic."
Greenpeace currently has a campaign running – called Save The Arctic – that aims to raise awareness about the shrinking of one of the world's most vulnerable regions.
Further reading:
Arctic ice reaches record low, with more melting expected
Pursuit of Arctic oil is 'profoundly reckless'
Greenpeace highlights 'disastrous' risks involved in Arctic exploitation