If you are looking for an ecotourist destination, then Dubai Marina should be at the top of your list. They have done a great job recycling old fishing ships, called dhows, for hosting cruises. Since these ships are older, they don't use the same fossil fuels newer vessels depend on. Reusing the material also preserves our limited resources.
Dhow Cruises Are the Future of Ecotourism
In the history of Dubai, no one could ever think that would be used for luxury cruises. Previously dhows, which were made by the fishing community in Dubai, were specifically used in sailing through the Indian Ocean and the Red Sea during their fishing escapades. However, in our millennial generation, the dhows have become a source of income and tourist attraction in Dubai Marina.
Currently, if you tour Dubai and fail to have a dinner cruise in a dhow is just like missing a part of you. Dubai Marina and Dubai Creek have become one the most popular places where tourists from far and wide find their solace, especially during the evening while having the cruise dinner. If you don't like modernity and you get scared of viewing skyscrapers, there is an option in Dubai Creek which basically is tradition and culture based. If you are a fan of the modern city of Dubai, then Dubai Marina is your place.
Why Dubai Marina
Many people love viewing the great glittering sights of skyscrapers and canals, especially under the moonlight when the entire city is blanketed with darkness. You will see amazing views that will make you always want more of such cruises.
With Dubai Marina cruises you will have a chance to view Palm Jumeirah and Burj Al Arab. Unlike the engulfed history of Dubai in Dubai Creek cruises, Dubai Marina is spiced with the shimmering modernity of the new Dubai characterized by skyscrapers. Dubai Marina is a favorite spot of many visitors and tourists because of the following:
The awesome sights it covers
Most of our young people in our era don't want to see those old charms that mean a lot to the history of the country and the elderly people. This could be the reason why many of them flock at Dubai Marina so as to see a vast variety of skyscrapers and constructions. You will also enjoy sighting promenade where people are either walking or sitting in the outdoor restaurants and cafes. It becomes more exciting when you pass under bridges and through canals, especially at night.
Whenever you hear of Dubai, the picture that flashes your mind is the skyscrapers and many commercial buildings because of its business prowess. All these can be seen when someone cruises in Dubai Marina. The ambiance is free from noises from traffic hence very great to relax from your long sunny day.
Nowadays the dhows in Dubai Marina are well-fitted with some recreational units, dining units, washrooms, 360-degrees glass walls, and entertainment among others. These give visitors an ample time during the cruise.
The overall cruise vessels are well-maintained and made in such a way you are not blocked from having views. At Dubai Marina, if a vessel is not quality, it is knocked out of the market by competition that's why their dhows are of high-class compared to the ones at Dubai Creek.
Flexible in their operation
Whether you come in the morning, afternoon or evening, you will have an enjoyable dhow cruise in dubai marina. It all depends on what you want. If you want taking snaps and sight-seeing, then you should be at Dubai Marina during the day. If you want some entertainment and cruise dinners, you should go for evening cruises. You can avoid being on an open deck especially in the afternoon because the hot sun may cause sunburns to you.
Great buffet dinner and entertainment
Dinner cruises are very popular in Dubai Marina because visitors feel a certain way when sailing, sightseeing, and taking your meal. The 3-course buffet meals are usually prepared in a high 5-star standard. You will receive some drinks and beverages immediately when you arrive at the dhow. The meal cruise cuisines vary from all likes like Italian, Seafood, Mediterranean, Indian and so forth. If you are a vegetarian or you require a special diet, you are well-catered for.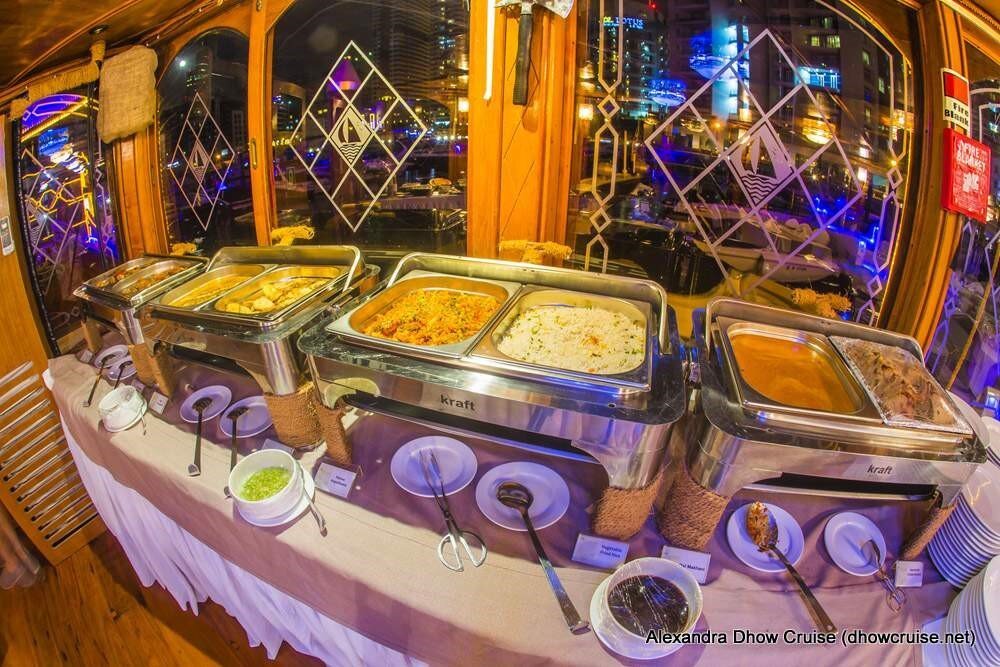 When it comes to entertainment, you will enjoy live music, some background music or dances. Some popular dances include tanoura dancing, magic shows, belly dancing, and puppet shows.
All of the above aims at making your money count, giving you some pretty experience, brightening your face and ensuring you get fun every single moment you are having dhow cruise in Dubai Marina.
Ready for Your Eco-Friendly Trip to Dubai Marina?
Dubai Marina is a great destination for eco-tourists. You will be surprised by how many great things you can do in the area without having to leave a larger carbon footprint. Why not start off with a dhow cruise?