Thursday's Google Doodle marks the 63rd anniversary of the Peak District being awarded national park status. The drawing depicts the park's iconic views and famous gritstone tors.
The Peak Distinct became the first national park in the UK in 1951 and is the second most visited worldwide, with 22 million visitors each year. Only Mount Fiji in Japan attracts more people annually.
The park covers an area the size of Greater London and is mainly located in Derbyshire, but also reaches Chester, Greater Manchester, Staffordshire and Yorkshire.
Jim Dixon, chief executive of the Peak District National Park Authority, said, "I'm really excited that Google has chosen to reflect the Peak District national park on their home page. The Google Doodle has become an institution since Google's founders began to change the famous Google logo to reflect different stories.
"As the world now increasingly uses the Google search engine to go about its business, being selected to be a doodle is very prestigious. Across the world only a very few national parks have featured."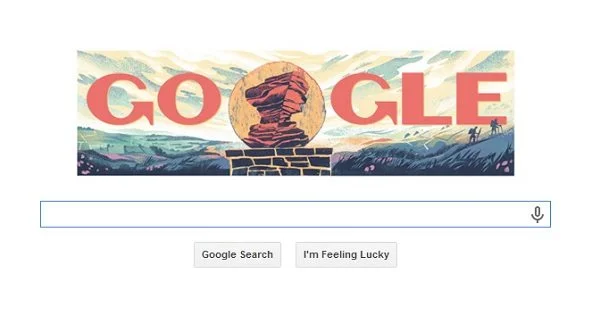 Other national parks to have featured on Google's home page include Yosemite in California to mark its birthday and Mount Fiji when it achieved World Heritage Status.
In Britain, there are now 15 areas of protected countryside including the Lake District, South Down, Brecon Beacons and Snowdonia.
Dixon added, "As we celebrate the achievements of the past 63 years we can look forward to a future in which we remain at the forefront of what national parks are about, being renowned as an innovator and a very successful organisation."
Photo: Dan-Scape.co.uk via Flickr
Further reading:
Blue & Green UK: Peak District national park
Fracking proposal at South Downs national park put on hold
'Heritage jewel' the Lake District to bid for world heritage status
State of Nature report reveals alarming UK wildlife loss
Natural capital committee calls for economic value on nature