Yesterday, we covered a poll developed before the 2010 general election by digital consultant Matt Chocqueel-Mangan, which measured support for policies rather than parties, generated over 370,000 results. In this second article, Simon Leadbetter looks at the performance of the policies in the constituencies of the party leaders.
So the Greens come out on top of most issues and overall. Surely in the heartlands of deep red, deep blue and deep yellow party leader safe seats, the results would be dramatically different?
Dissappointingly for the party leaders at the time, none secured the largest support among their constituency electorate.
In the constituency of the then-prime minister Gordon Brown, Kirkcaldy and Cowdenbeath in Scotland, Green policies came number top:

The eventual turnout was 62.2% and non-turnout 37.8%. Actual results were:

In leader of the opposition David Cameron's constituency of Witney, the Greens won again: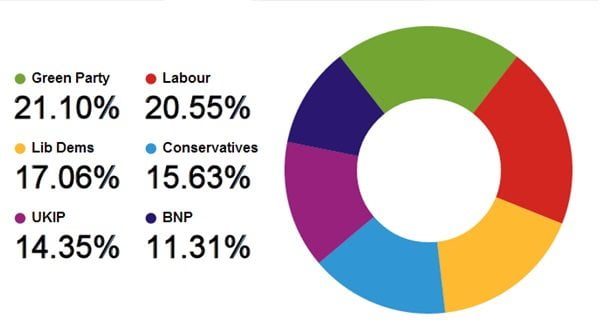 The eventual turnout was 73.3% and non-turnout 26.7%. Actual results were:

In Shellfield Hallam, where Lib Dem leader Nick Clegg is MP, the Greens won again: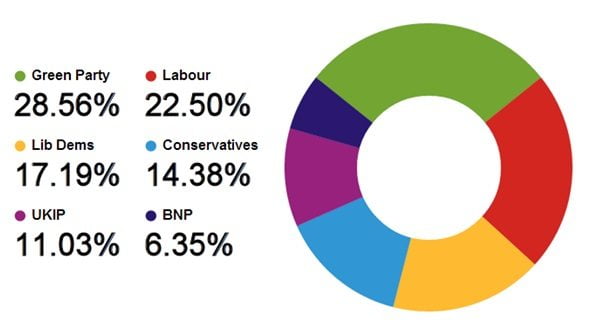 The eventual turnout was 73.7% and non-turnout 26.3%. Actual results were:

The newcomer to party leadership, Ed Miliband, MP for Doncaster North, had the largest support in his constituency: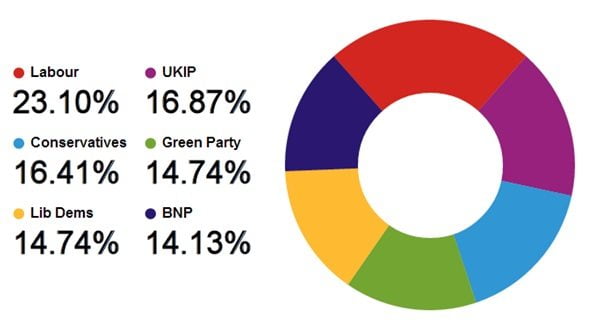 The eventual turnout was 57.3% and non-turnout 42.7%. Actual results were:

What does this mean?
As polls consistently show, the public are ahead of politicians and the national press concerning sustainability issues, with support for renewable energy being one such policy.
There is clearly a significant electoral dividend in adopting green policies, if a mainstream party and candidate can withstand the hostility of a misinformed and prejudiced media.
As we wrote in June that we need Conservative, Labour, Liberal Democrats and nationalist parties that get sustainability.
Whichever party does get sustainability, with its critical balance of environmental, social and economic needs, would then get more votes.
Asked whether would be running the site again in 2015, Chocqueel-Mangan said, "Most certainly. It's a non-profit venture that I fund personally, but I'd like to bring this kind of decision making to as many elections and as many people as possible. All support is truly welcome."
In the final article in this series tomorrow, we look at what a people's manifesto, based on the outcomes of Vote for Policies' research would look like.
Pay attention, politicians.
Further reading:
If we voted for policies at elections, and not parties, the results might surprise us all
We need Conservative, Labour, Liberal Democrats and nationalist parties that get sustainability
Vote Green (where they can win) if you care about the future
Are we the zealots of a new religion; an environmental Taliban that is silencing dissent? Not really
UKIP's success in the local election is a rallying cry for smaller parties